High Adventure on Mt. Monadnock 2022
by Will O., Troop 185 Scribe

WELLESLEY - On Friday November 4th, 2022 at 7pm, 16 scouts and 8 adults departed the St. John parking lot and began our drive north toward Mount Monadnock, straddling the towns of Jaffrey and Dublin, NH. We arrived at the base of the mountain to our campsite Apache at Camp Wanosckett at around 9pm, quickly pitched our tents, and slipped into our sleeping bags for a surprisingly comfortable night of sleep.
Wake-up was at 7am, immediately followed by a flag raising ceremony performed by some of the younger scouts in our troop. On this trip, the cooking was elevated from past trips, seeing patrols level up with hot breakfasts of waffles made on a vintage Griswold cast iron waffle maker, eggs, bacon, sausage, breakfast burritos and hash browns cooked in foil packets nestled in coals on the fire.
The team departed for the mountain shortly after 9am and began our ascent not long after arriving at the base of the mountain. Scouts - including many newcomers - made quick work of the trail. A group working on their Second Class rank performed map orientation and were responsible of navigating up the trail. A warm, moist wind blew much of the day with temperatures reaching over 70 degrees. As we climbed above the tree-line, the wind speed picked up, and whipped the clouds all around us. The landscape was decidedly different from the freezing temperatures, ice, and overnight snow of last year, but the moist rocks made for a slippery trek in many places. The first group reached the summit shortly after 12pm and enjoyed lunches that seemed to consist largely of sandwiches - the strong winds were a swift deterrent to any plans to cook atop Monadnock. After a safe trek back down the mountain, firewood was gathered and water replenished from the ranger's station before heading back to camp.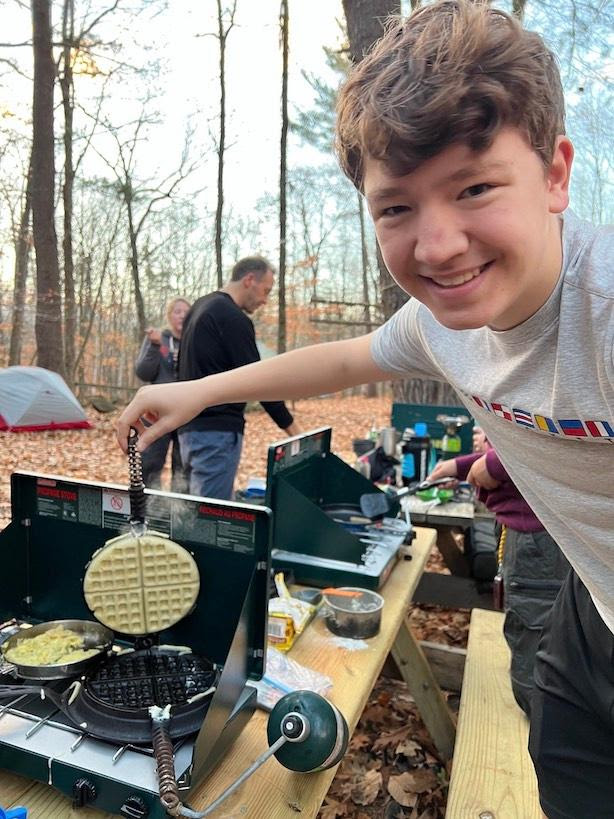 Scout Ben K. cooks perfect waffles on a Griswold cast iron waffle maker, circa 1908.
Troop 185 stands on the summit of Mt. Monadnock - 3,165ft. Winds were gusting to 30 miles per hour on top.
After a short period of leisure around camp, the stoves came out and cooking began early to take advantage of the remaining daylight. Delicious fare such as teriyaki chicken, chicken stir fry in a wok, and Mexican chicken fajitas were on the menu. Special mention goes to Scoutmaster MacKinnon for his beef pot pie with scratch-made pastry crust baked perfectly in a dutch oven on the coals of the campfire, and Henry M. for his equally creative foil packet breakfast and dinner, also cooked in the fire.
Senior Patrol Leader Henry M. prepares a Philadelphia Cheese Steak Sandwich on a table lashed using native materials.
Scoutmaster MacKinnon's beef pot pie rolled out and ready to go into the dutch oven for baking.
Scoutmaster MacKinnon's beef pot pie after baking, ready to be devoured.
The evening ended with our usual campfire including scouts telling some very funny jokes, some very scary stories, and a Mt. Washington search-and-rescue story read by Scoutmaster MacKinnon.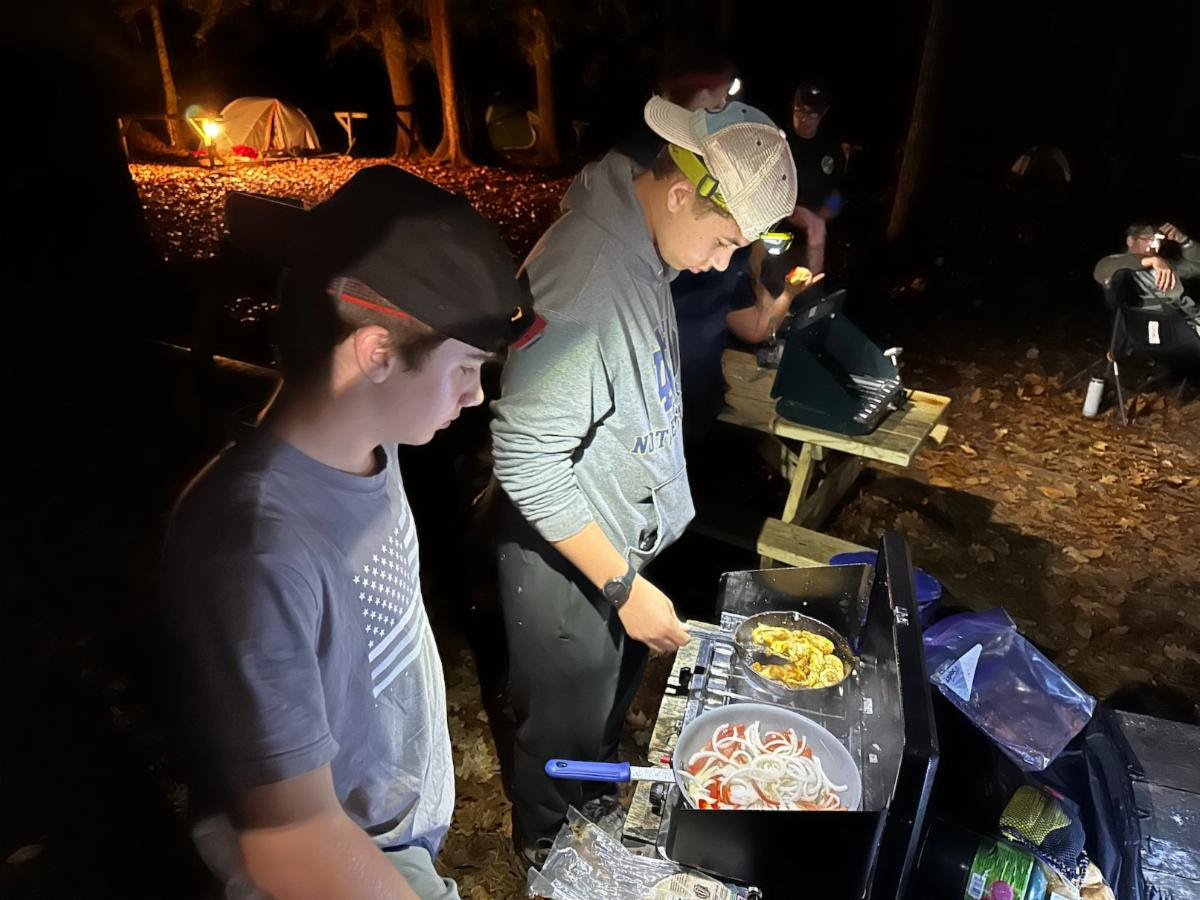 Scouts Alex D. and Patrick O. prepare gourmet Mexican chicken fajitas.
Saturday night campfire - listening to a re-telling of the "Mysterious Beach" story, by Scout Jonathan C.
After another warm and very windy night, the troop broke camp and departed for home by 8am.
A special thanks to Henry M. for whom this was his last Troop 185 trip. Henry's leadership has been exemplary and his presence will be missed.
Thanks also to the parents who joined on this trip: Dr. Sharpe, Mrs. Perna, Mrs. Ohaegbulam, Mr. Furmaniuk, Dr. Daly, Mr. Jadot, and Mr. Keiper. We could not have gone on this trip without your help.