2022 Saco River Canoe Trip Report

by Will O.

WELLESLEY - It was a mild and clear Friday night on September 16 when seventeen scouts and nine adults headed north in search of adventure on the Saco river. We arrived to decidedly cooler weather at Danforth Bay Luxury Camping and RV Resort and quickly pitched our tents.

Dinner was every man for himself with most scouts opting to eat dinner before they departed St. Johns or a quick pre-packed meal once tents had been set up.

Saturday morning brought chilly temperatures, bothersome amounts of dew, and the swim test. All those who required the swim test were thrilled to find out that the ice had been scraped from the surface earlier that morning and the pool heater turned on high.

With breakfast consumed and business dispensed, we began our journey on the Saco river. As a newcomer to the Saco trip (and canoeing in general) I found the slow moving river a relaxing change from the lawn mowing, homework and laundry that usually occupied my weekends in Wellesley. After less than an hour of paddling, we took a break on a beach for a packed lunch then promptly pushed off into the river for our second leg of the day.

We arrived at the campsite, the leisurely pace having allowed for several hours of recreation on the river bank before dinner began. Gourmet fare such as hotdogs, baked beans, and mashed potatoes were some of the foods being cooked by patrols Saturday night.

After dinner was had, most scouts played hide and seek on the sand flats before sitting down for a campfire led by Tenderfoot scout John O. The second night being warmer, we then settled in for a more comfortable sleep.

We awakened Sunday morning and promptly began cooking a breakfast of bagels, pancakes, sausage, eggs and bacon. After quickly breaking camp we packed our bags and were on the river by 9am.

Several hours of canoeing found us at our terminal point and with the Saco Valley Canoe Company assisting in logistics, we parked our canoes, reached our cars and drove off toward a barbecued lunch at Yankee Smokehouse.

Meat took center stage at this popular stop in Ossipee New Hampshire where scouts and adults worked hard to replace all calories lost paddling the river. No Saco trip would be complete without lunch there.

Cars were back in the St. John's parking lot by 5pm Sunday, another successful Saco trip in the books.

Many thanks to Mr. MacKinnon, Mr. Blumenthal, Dr. Daly, Mr. Du,
Mr. Flynn, Mr. Goggin, Ms. King, Mr. Peng, and Mr. Rodgers.
Without their willingness and expertise, this trip would not
have been possible.
The swimming pool at the Danforth Bay Luxury Camping and RV Resort. As you can tell, we weren't exactly "roughing it" on this part of the trip.
Team photo at our campsite on Sunday morning before we headed down the river. 13 canoes in total.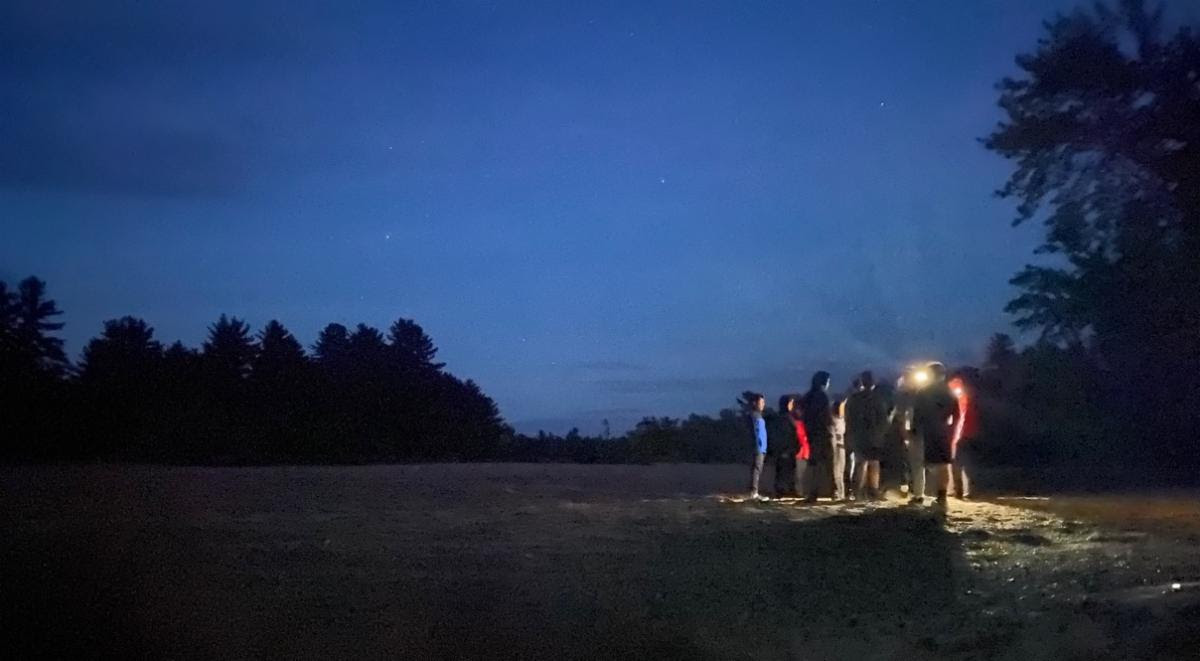 Trip Photo Contest Winner
After reviewing the hundreds of photos entered into the trip photo contest, the judges are pleased to announce that Mr. Flynn has won First Place for his stunning work entitled Manhunt on the Sandbar. The judges were particularly impressed by the composition of the scene. The small gathering of Scouts stands in juxtaposition to the infinite expanse of the universe.
A note from the artist: "The picture captures 15 scouts playing 'manhunt' (an enhanced version of hide-and-seek) on the long sandbar that separated our campsite from the mainland."