Nantucket Adventure 2023 - Trip Report
Some days ago — never mind how long precisely — having little or no money in my purse, and nothing particular to interest me on shore, I thought I would sail about a little and see the watery part of the world...
- Herman Melville, Moby Dick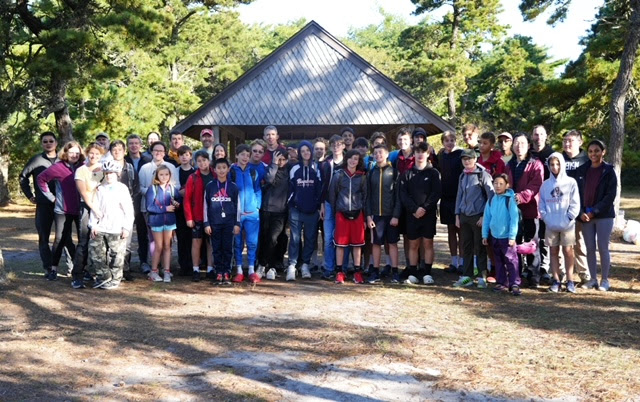 And so it was with Troop 185 that we, on cool October morning with dark clouds on the horizon, let loose the surety of the mainland to sail for the island of Nantucket and adventure!
Red skies in morning, sailors take warning...
When we met at 6:00am on Saturday morning, the skies were still dark but the forecast looked bad. A cold front was approaching from the northwest that promised afternoon rain, while off to the southeast a tropical storm was churning up the ocean and threatening the New England coast from Bar Harbor to Boston. The Troop 185 leadership consulted the best weather forecasts available and concluded that although the ferry ride might be bumpy, a safe crossing to the island was still possible and, once there, Nantucket was actually the safest place to weather the storms. The trip was on!
After a quick and efficient check-in led by our Senior Scouts, 53 of us in total left St. John's and headed south to our home port of Hyannis to make the short trip over to Nantucket. Our ship departed at 9:30, but we needed to bring enough food and supplies to sustain us for nearly 48 hours in the wilderness of central Nantucket. This meant hauling several boxes of Cheez-Its and Ritz crackers, plus countless packages of M&Ms, Skittles, and Sour Patch Kids across the Nantucket Sound. This was no simple trip to Nobscot. This time we really needed to Be Prepared, but the Scouts were up to the task.
Land ho!
After arriving on Nantucket, the crew at Young's bike shop made quick work of us and before we knew it we were dispatched to Camp Richard in a string of clean, green bicycles powered mostly by candy.
Our arrival at camp was like walking into a science fiction movie because our cooking tent and equipment were all setup perfectly, complete with string lights, but the entire camp was absolutely quiet. No one else was there. Not even "Trip," the mysterious camp caretaker who I am actually not making up. We were the only other people at Camp Richard the weekend and we would take full advantage of everything our camp had to offer.
With rain approaching, some of the adults fumbled around trying to get their tent poles to go in the right direction, but the Scouts worked with purpose and precision. Within a few minutes, our site was fully populated with clusters of little tents, plus one enormous tent occupied by the Scoutmaster, but that's a separate story.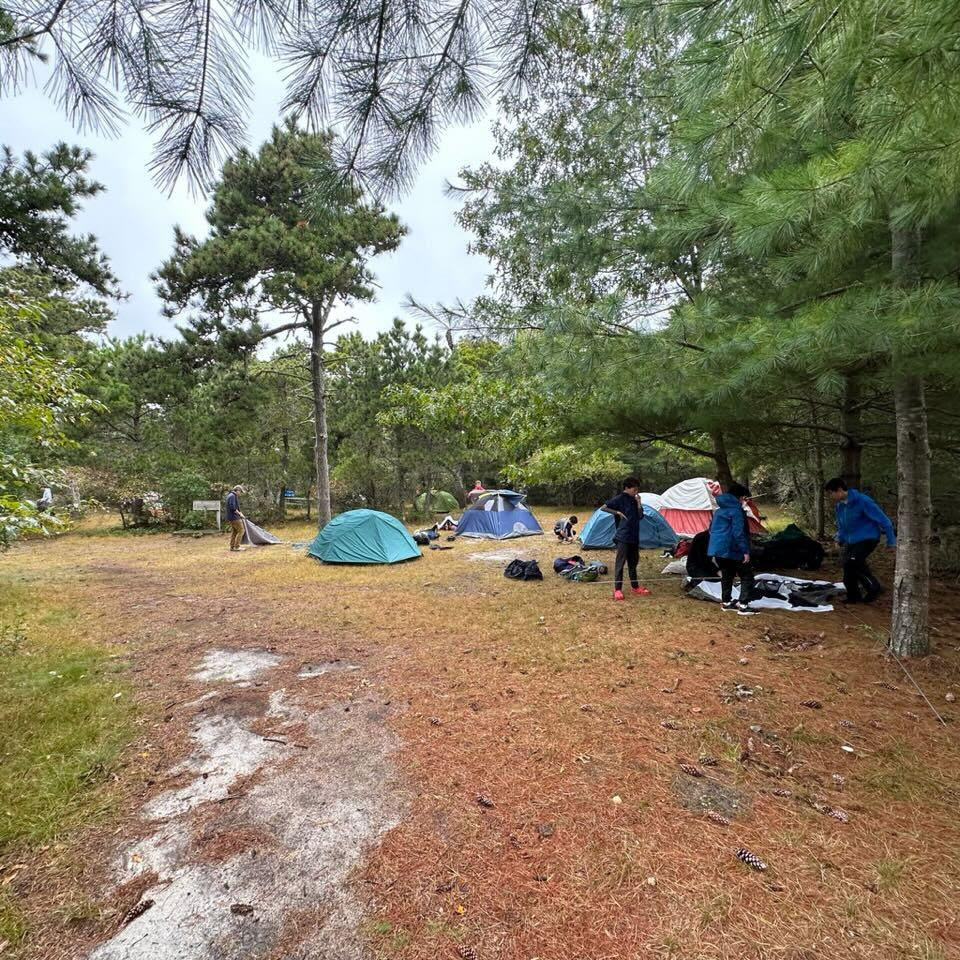 Afternoon on the island
Once we settled in, most of the Scouts headed into town to explore the Whaling Museum, enjoy end of season ice cream from the Juice Bar, and restock the supply of Cheez-Its which was severely depleted on the boat ride. Meanwhile, back at camp, the stragglers relaxed and waited for the rain to let up. Everyone was operating under a strict 5pm curfew because none of us wanted to see what happened in downtown Nantucket after dark...
The crew reassembled right on time at 5pm and started cooking up a feast of burgers, fish tacos, fried rice, and crepes. Yes - they cooked crepes and they turned out pretty good!
Pictured above you will see all of this magic in action. Patrick O. is working the stove while Nate F. is carefully monitoring the situation to make sure that Patrick does not get caught up in a grease fire or other similar calamity. In the background, Ike B. and John M. are eagerly anticipating whatever Christian K. is cooking up, while William G. watches the sky to make sure their dinner is not compromised by an aerial invader. Then, of course, there's Noah M. in the foreground, giving the photographer a cautious thumbs up. He's welcoming, but the message is clear - there are enough cooks in this kitchen.
After dinner, the Scouts had a rollicking game of manhunt in what must be the largest open field on Nantucket. Fun was had by all. Then everyone went to bed for some well deserved rest. By 930pm the only sounds around came from crickets and Dr. O. carefully oiling one of the Dutch ovens.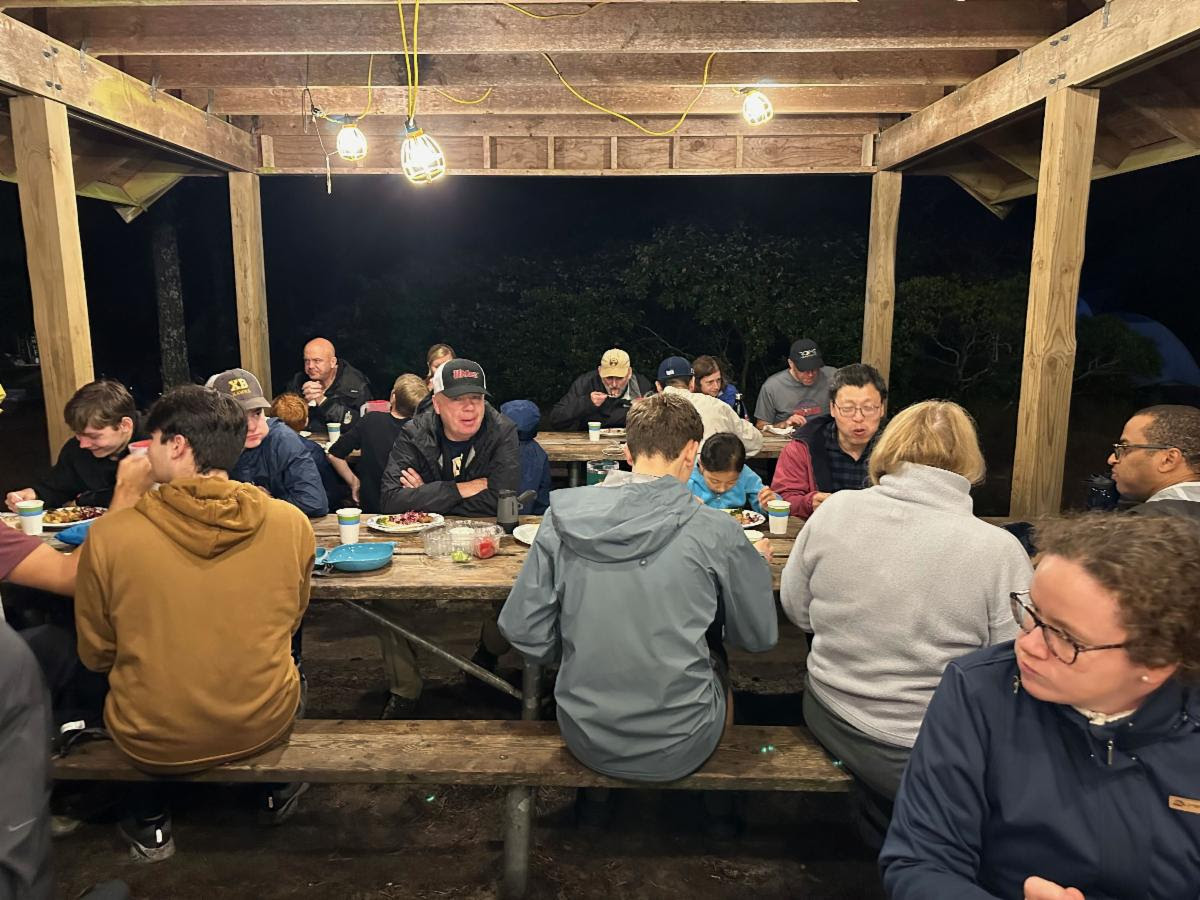 Oh what a beautiful morning!
After a blustery night, Sunday emerged with clear blue skies and a stiff easterly breeze. The Scouts cooked breakfast and then set out on a range of adventures. Many planned out 10-mile bike rides to satisfy one of their 2nd Class Requirements. Thomas Z. and Jeffery P. took things even further and planned to circumnavigate the entire island - quite a feat! By 10am everyone was on the road looking for adventure and, if we're going to be honest, probably more candy.
One crew headed out to Madaket on the far western end of the island. The wind on the way out was a beast. We even had to pedal on the downhill portions of the ride! But the effort was rewarded with an amazing beach and some truly menacing breakers. No swimming on this trip.
The return trip was a breeze - literally. We were back in camp in minutes, even after accounting for a leisurely lunch downtown.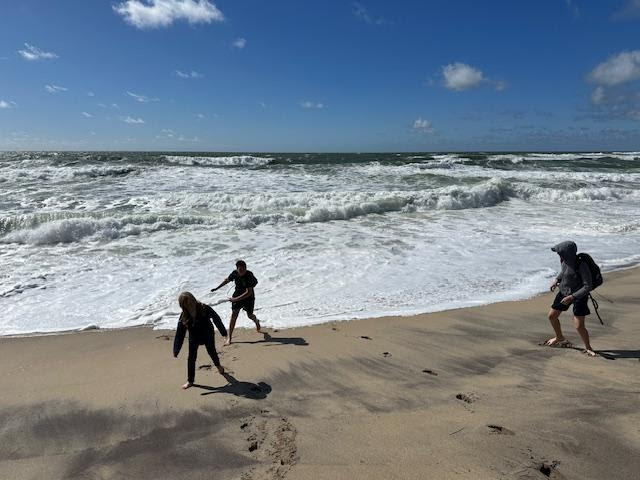 Later that afternoon...
After rambling around the island for most of the day, the Scouts starting wandering back into camp over the course of the afternoon and then lost themselves exploring the surrounding woods or playing games in the very well-equipped lodge. Many competitive games of ping pong were had while other members of the patrols started getting another amazing round of dinners ready for the hungry crew.
Meanwhile, the beginnings of a camp fire were coming together along with some really good coals for cooking our corn and a special Dutch oven birthday cake prepared for Nate F. by the senior Scouts. The effort was inspirational, but the results were even better. Nothing says success like a Dutch oven that has been scraped clean by two dozen hungry Scouts!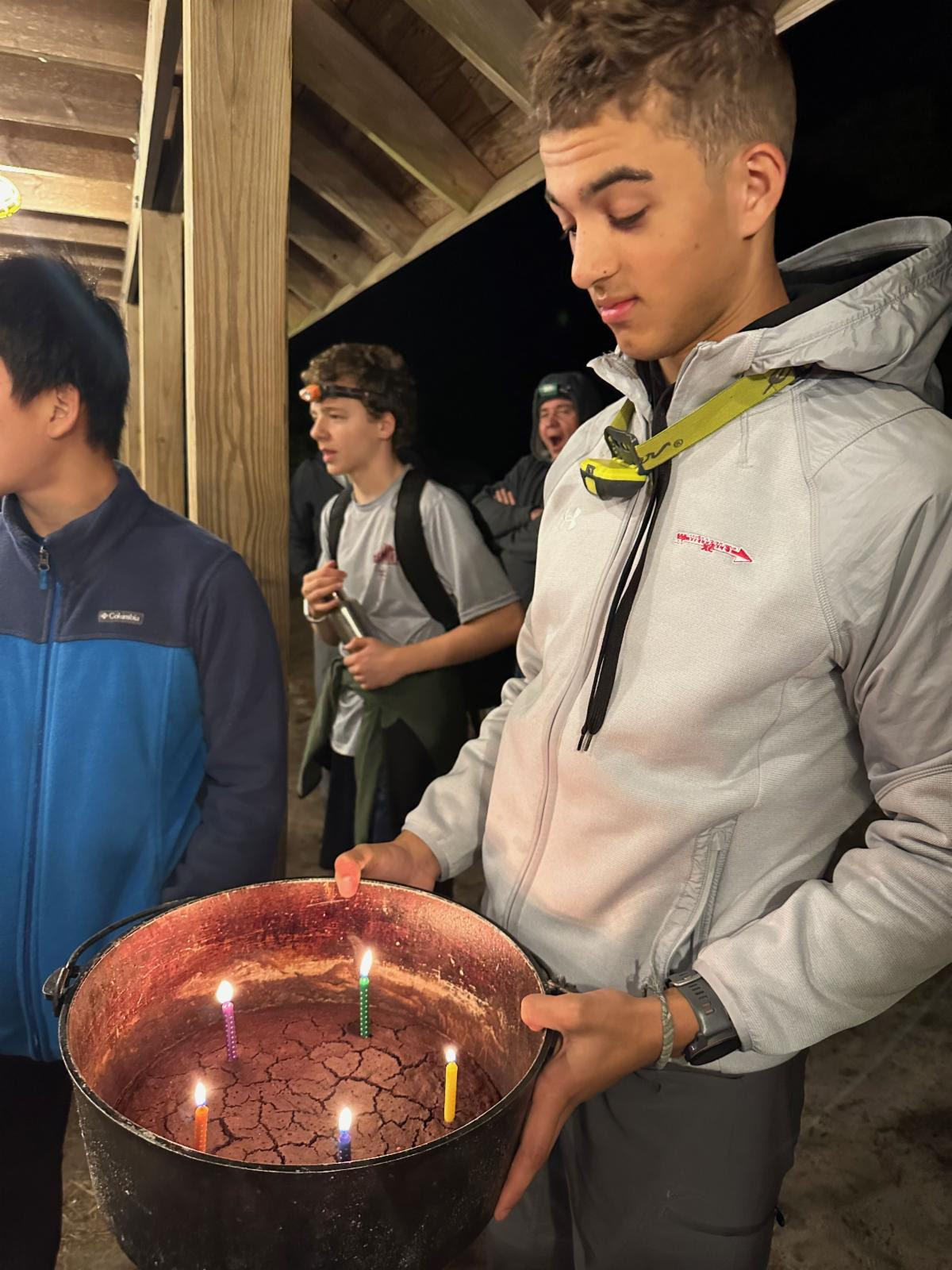 Homeward bound!
Early the next day we broke camp, rode into down, and caught the noon ferry back to Hyannis. The trip was a success. Many great meals were cooked, and many carefree hours were spent exploring our beautiful island with friends - new and old!
We are already looking forward to Nantucket 2024!
Be Prepared!
Mr. Flynn