2023 Saco River Canoe Trip Report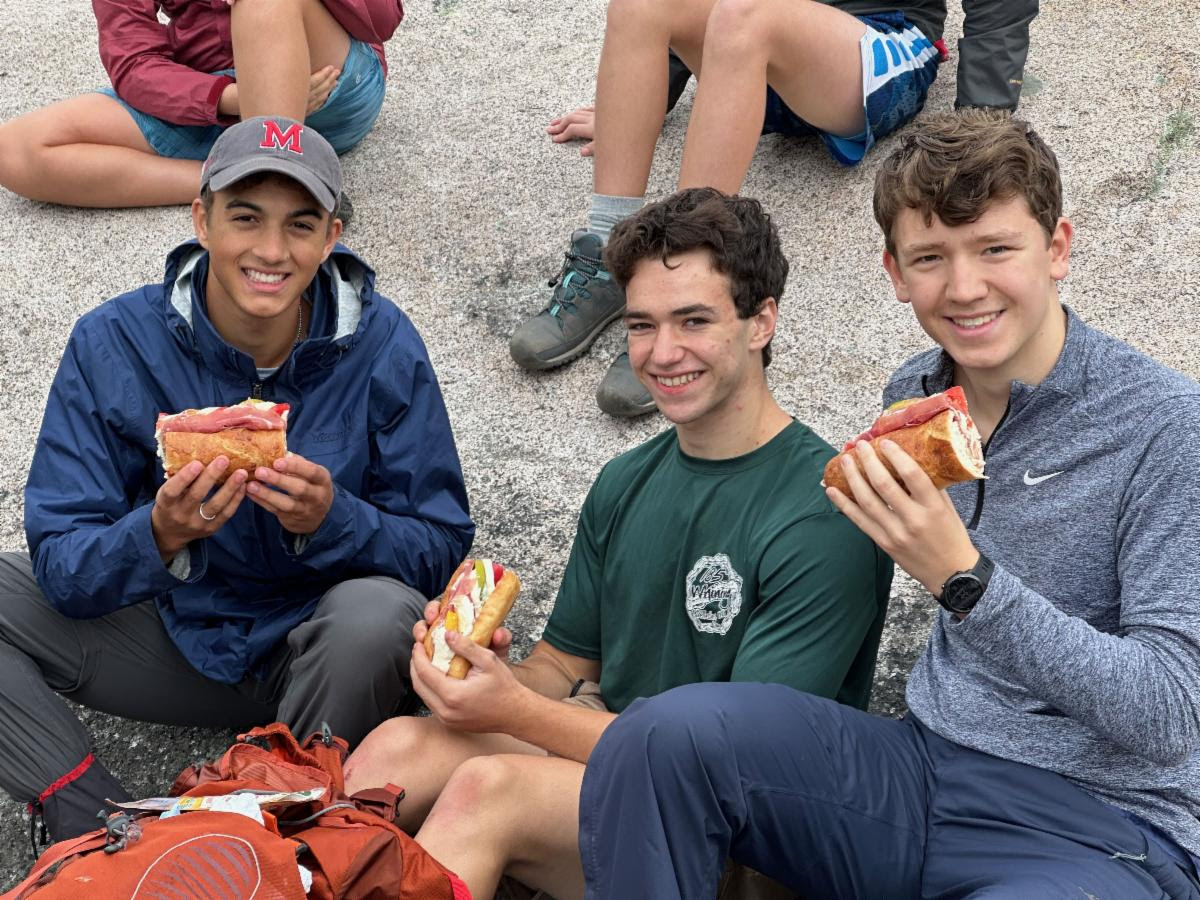 Our Saco River crew has just returned from northern New Hampshire on what was, quite literally, a whirlwind trip. Undaunted by Hurricane Lee (well, maybe a little daunted), our crew of 21 scouts and 5 adult advisors proved to be fearless, adaptable, and prudent in our outdoor adventures this weekend - and the result was delicious (read on)!
Friday Evening -- Our trip begins with Hurricane Lee about 300 SSE of Boston. The forecast is oscillating between fair and ominous. The biggest problem appears to be wind rather than rain. Some forecasts were calling for gusts of up to 50mph, but our destination was in the safe zone. We make the call that the trip is a "go" and meet at St. John's for our pre-trip briefing, but there is still a lot of uncertainty about what the next 48 hours will hold. It could be a classic Nor'easter, or it could be clear skies and a balmy breeze. Who could say? This is New England after all, so if you don't like the weather, just wait a little while and it will change.
At a little after 630pm, four cars and one absolutely amazing 12-person passenger van head north toward our campground near North Conway, NH. The mood is upbeat and optimistic.
Saturday Morning -- We wake up at about 630am. Skies are grey but completely calm. The gale force drama that was forecast the night before has not materialized, and yet the forecast has worsened. Despite the fact that observed conditions were good, the National Weather Service was calling for unsafe winds for much of the day. In consultation with the Senior Patrol Leaders, the decision was made to scuttle Day One of the canoe trek and pivot to a day hike on the appropriately named Hurricane Ridge. Smart move.
Because of the itinerary change, our morning schedule became more relaxed and allowed for some excellent off-the-grid cooking. A couple patrols put together some very impressive french toast, but the cordon bleu goes to the senior patrol's preparation of shashuka, made from scratch, cooked over a wood burning stove, and complete with three eggs poached to perfection in the simmering stew. I was fortunate enough to taste some (not everyone was) and I can attest that Tatte will have serious competition if these Scouts ever decide to open up a shop in Wellesley Square!
After breakfast, we headed to Hurricane Mountain just outside of North Conway, NH for a storm-appropriate day hike. Conditions in the parking lot were perfect. A light breeze and no rain. As we headed up the trail, the wind started picking up considerably until we got to the top and were faced with a full-force gale. The Scouts took shelter behind some of the rocks and used the opportunity to construct a classic Italian sub consisting of fresh bread, prosciutto, heirloom tomatoes, and mozzarella cheese - all prepared at the summit in "real" conditions. Congratulations to Andrew M., Ben K., and Will O. for your "heroic" accomplishment!
Because conditions were not improving, we headed back to camp to make sure that it was still there, and to prepare for dinner and our evening campfire.
Saturday Afternoon -- Back in the safety of the campground, we re-discovered the campground's pool. A perfect place for the required BSA swim test and a game of something involving a deflated kickball. It took about 30 minutes to convince the Scouts to get into the water, and another 90 minutes to convince them to get out. Swimming is as good a way to pass the time during a hurricane as any I can think of.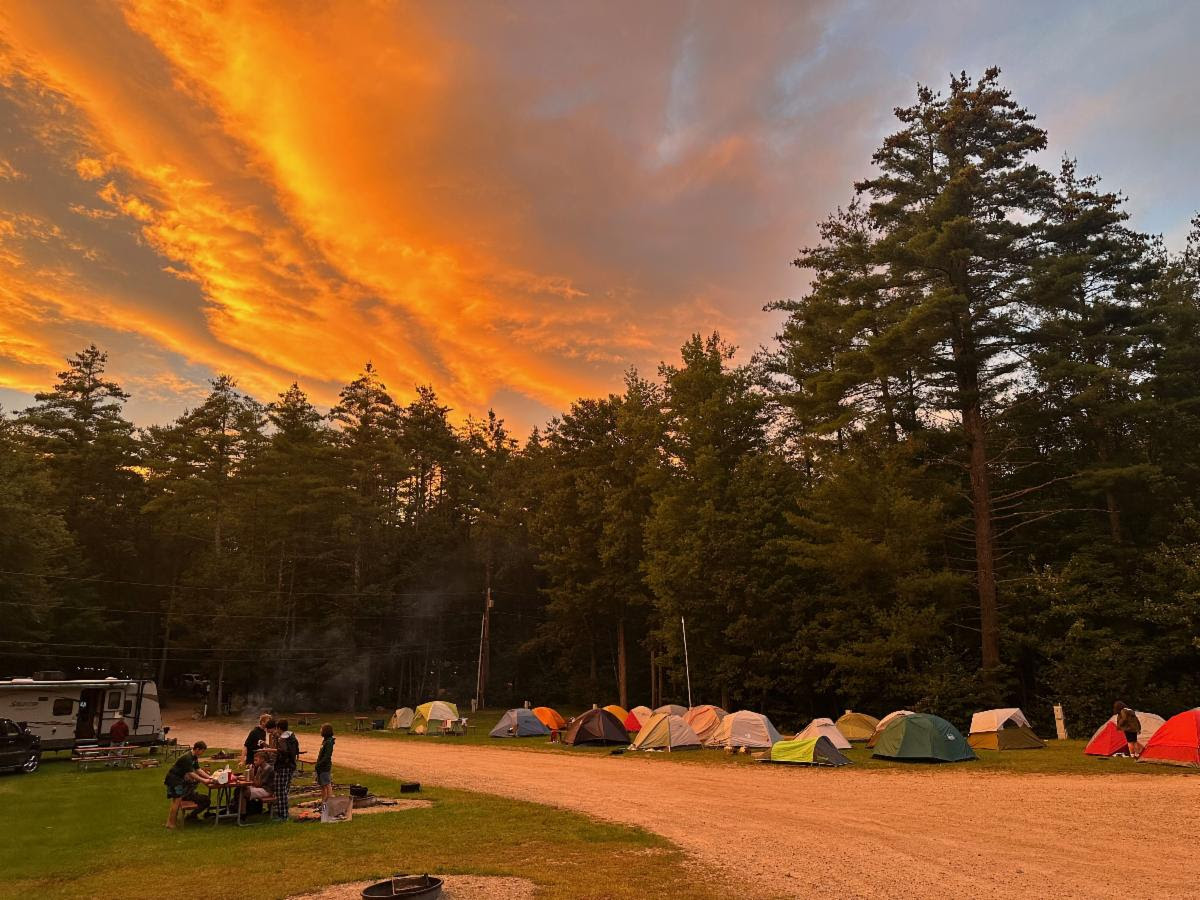 Saturday Evening -- Another Michelin-worthy round of meals prepared by Troop 185. Topping the list in the "level of difficulty" category was Noah R.'s patrol, which attempted - and largely succeeded - in preparing the elusive Dutch Oven pizza. For those unfamiliar with the physics of the Dutch Oven, this cast iron vessel contains limitless possibilities, but requires near-perfect mastery of fire and heat. It's your basic "minute to learn, lifetime to master" dilemma. Noah's patrol took up the challenge with impressive results.
Nearby, Nate F. was preparing a pasta bolognese from scratch while Alex D. and Patrick O. where preparing more traditional hamburgers with all the fixings. They had about three patties for each Scout, so we were pretty sure that they wouldn't go hungry.
In a more secluded portion of the cooking area, the senior patrol was engaged in something - dare I say - secretive. To be honest, I will never know the details, but I do know that they were doing something so ambitious that I couldn't describe it even if I had been a part of it, which I wasn't. What I can say is that there were frequent exclamations along the lines of "this is so good!" and "I've never tasted anything better in my whole life!" Some things are best shrouded in mystery.
The evening ending with fierce winds, a cozy campfire, and an eclectic sampling of music courtesy of our neighbor in the campsite who not only shared some fresh venison with us (it was very good), but also showered the campsite with a little Jimmy Buffett and Johnny Cash (which was even better!) before we called it a night.
Sunday Morning -- The wind howled until about 2am, then stopped. The skies then cleared and made way for a spectacular New England fall day. We broke camp quickly and headed to our put-in location for an abbreviated, but still awesome, paddle down the Saco River.
The water was fast, high, and crystal clear. Our crew made quick work of the 4ish miles between Swan's Falls and the Canal Bridge. En route, the Scouts enjoyed capsizing a few times (intentionally) and then swimming at the beach before we had to call it a day and head back to Wellesley.
Not a conventional Saco River trip, but a good one nonetheless!