Dutch Oven Roasted Chicken and Rice

(with Optional Balsamic-Fig Glaze)
October 12, 2022, P Pyzowski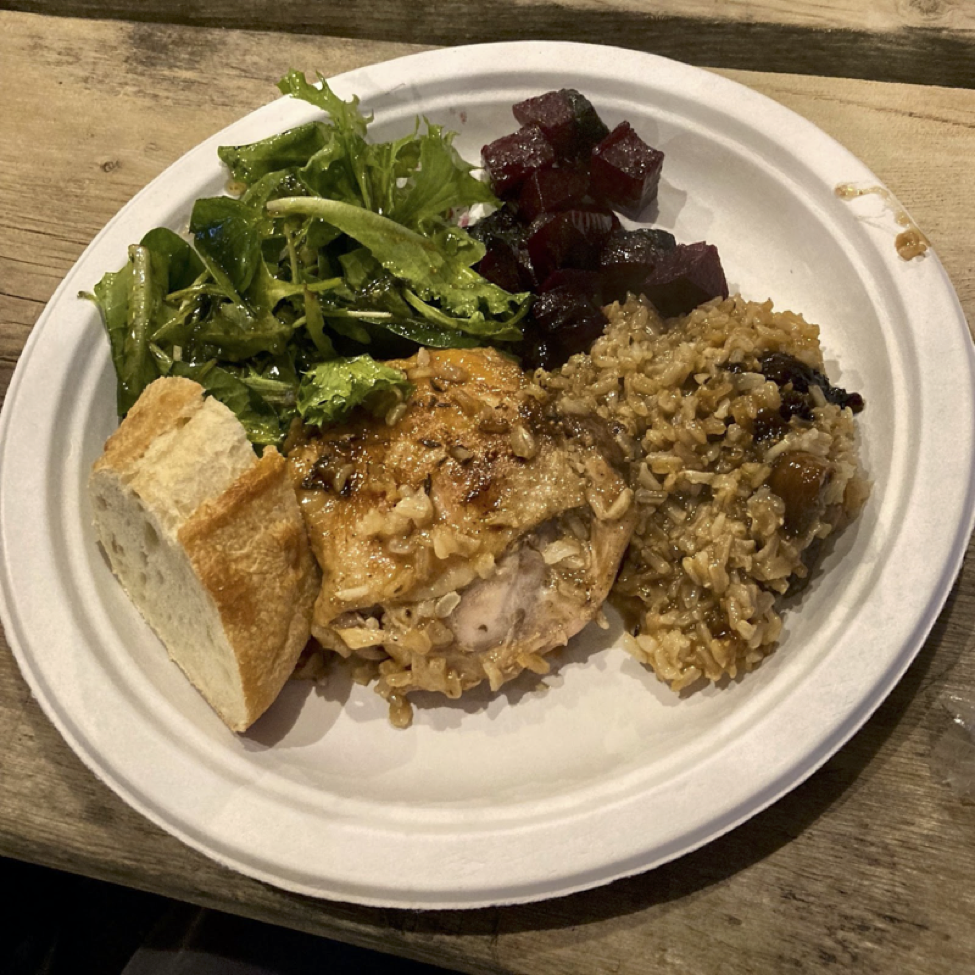 Dutch Oven roasted bone-in chicken thighs, prepared with a balsamic reduction with figs, and served with brown rice, roasted beets, salad greens, and bread (photo credit B MacKinnon)
Grilling chicken outdoors can be challenging due to variations in heat sources and portion size and shape. This recipe cooks bone-in chicken thighs together with brown rice in a Dutch oven. The chicken finishes cooking in a steam bath, so it is both thoroughly cooked and moist, while the rice absorbs the flavors of the chicken drippings.
This recipe makes delicious chicken and rice using only salt and pepper, but can also serve as a base for adding additional flavors, seasonings, glazes, and sauces. I have included a recipe for an optional balsamic-fig glaze below, as well as suggestions on how to modify the recipe to add your own flair and flavors.
Preparation Time: 90 minutes, once the charcoal fire is ready.
Servings: The recipe below serves three adults using a 10" Dutch oven. Instructions for adjusting the number of servings is given later under Cooking Notes.
Ingredients
6 bone-in chicken thighs (large size)
Salt and pepper
Half-stick (4 tbsp) butter
1 cup uncooked brown rice
1.5 cups water
Utensils
In addition to the Dutch oven and gloves, and measuring cups for rice and water, you will need tongs to cook the chicken, a large serving spoon, and a plate (or something else) to place the chicken on while the rice is being prepared in the bottom of the Dutch oven.
Directions
1. Place chicken on plate, season with salt and pepper.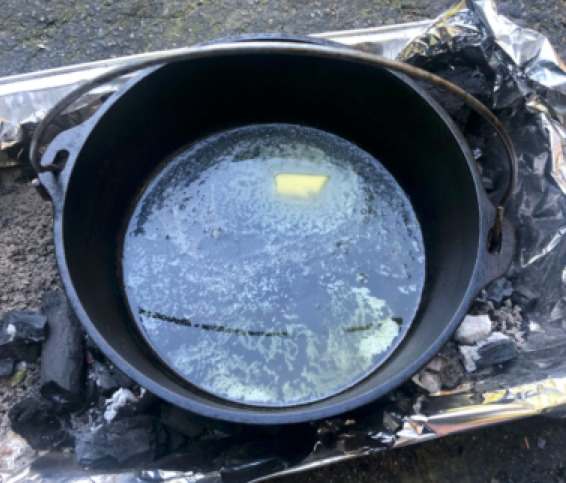 2. Place Dutch oven on coals and let it heat for ten minutes. Place butter in Dutch oven until it has melted and started to sizzle.
3. Lay chicken on bottom of Dutch oven in melted butter, cover and let brown for five minutes. After five minutes, flip chicken, cover, and brown the other side. Remove from Dutch oven and return to plate. If you have more chicken than can be browned in a single batch, brown in multiple batches.
4. Add uncooked brown rice to the bottom of the Dutch oven. Stir the rice so it is coated by the butter and chicken fat. Spread the rice so that it is evenly distributed on the bottom of the Dutch oven. (This step should take no more than 60 seconds.)
5. Layer the chicken on top of the rice. If you have a lot of chicken, it is fine to have two layers.
6. Add the water to the pot. Cover the Dutch oven and wait 30 minutes.
7. After 30 minutes, remove the cover. You should see partially cooked rice pressing up between the chicken, with a layer of boiling water on top. Replace the cover.
8. After another 10 minutes, remove the cover. You should see cooked rice with a small layer of steaming water on top, no more than half-inch thick. The picture above is typical of what this looks like when the Dutch oven is not perfectly level - some rice above water, some small puddles. When you reach this consistency, replace the cover, remove the Dutch oven from the coals, and let it sit for an additional 15 minutes. (If there is much more water than about a half-inch, or most of the rice is still under water, replace the cover and check again in five minutes, repeating until the water has boiled down.)
9. After 15 minutes the chicken and rice will be ready to serve. See picture above.
Cooking Notes
Portion Size. Rule of thumb is two chicken thighs and one-third cup of dried brown rice per adult, and one chicken thigh for youth. A 10" Dutch oven can accommodate up to ten chicken thighs, double layered. The key is to keep the ratio of water to brown rice at 2.5 to 1. Make sure you are using at least 1 cup of rice in a 10" Dutch oven, 2 cups of rice in a larger Dutch oven.
Recipe is Forgiving of Cooking Conditions. The recipe has been tried with different sizes of cast iron and aluminum Dutch ovens, briquettes and wood charcoal, and various quantities of rice and chicken including mixes of bone-in thighs and drumsticks, and two layers of chicken. It has also been tried in the home in an oven at 375F. Because the cooking continues until the rice is cooked, the chicken is always thoroughly cooked. And the presence of the chicken keeps the rice from cooking too quickly. Again, the key is to keep the ratio of water to brown rice at 2.5 to 1.
Variations. This recipe makes delicious chicken and rice using only salt and pepper, but can also serve as a base for adding additional flavors and seasonings to both the chicken and rice, additional ingredients in the rice mixture, and different glazes and sauces. Be careful with adding ingredients to the rice that affect the moisture levels while cooking. Sauces and glazes should be poured on top five minutes before serving, not during cooking.
Balsamic Reduction with Figs Glaze
This glaze can be prepared in a pot/pan/sauce pan while the chicken is cooking, and poured onto the chicken five minutes before serving. The ingredients are sufficient for 4-6 pieces of chicken in a 10" Dutch oven.
We prepared this dish and glaze for a group of 30 adults, older scouts, and siblings under 10yo, and everyone liked it. The sweetness of the honey and figs offsets the tartness of the vinegar and mustard.
Ingredients
1 cup balsamic vinegar
4 Tablespoons dijon mustard
2 Tablespoons thyme
4 Tablespoons honey
3 garlic cloves
Either one pound of fresh figs (stem trimmed off and quartered) or one package dried figs (quartered)
Directions
Combine all ingredients except figs in a pan, cook on low heat for 15 minutes. Sauce should be slowly bubbling. You can let the sauce continue to cook on a low heat, be careful it doesn't get beyond a slow bubbling.
If you have dried figs, add with the other ingredients and let them cook for the full 15 minutes.
If you have fresh figs, add them to the sauce five minutes before pouring on top of the chicken.